Receive a digital download link by filling out the form below.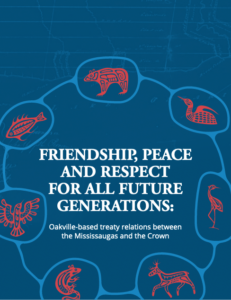 The work of Reconciliation begins with the Truth, and as Mississauga Elder Peter Schuler explains "what better place to seek the truth than your own local community."
Oakville's Treaties and Indigenous history are not well known or readily available. This report seeks to remedy this knowledge gap by exploring the Treaties between the Mississaugas of the Credit (MCFN) and the Crown in what is now Oakville.
Throughout the report, the records show that the Mississaugas never surrendered their land, but it was instead given in trust to the Crown; they went to great lengths to protect both the land and waters in their traditional territory.