The Mississaugas of the Credit First Nation
(MCFN) is part of the Ojibwe (Anishinaabe) Nation, one of the largest Aboriginal Nations in North America. The MCFN reserve near Hagersville, Ontario, is approximately 6,100 acres. This small land holding in Southwestern Ontario is all that remains of their once expansive property of 3.9 million acres.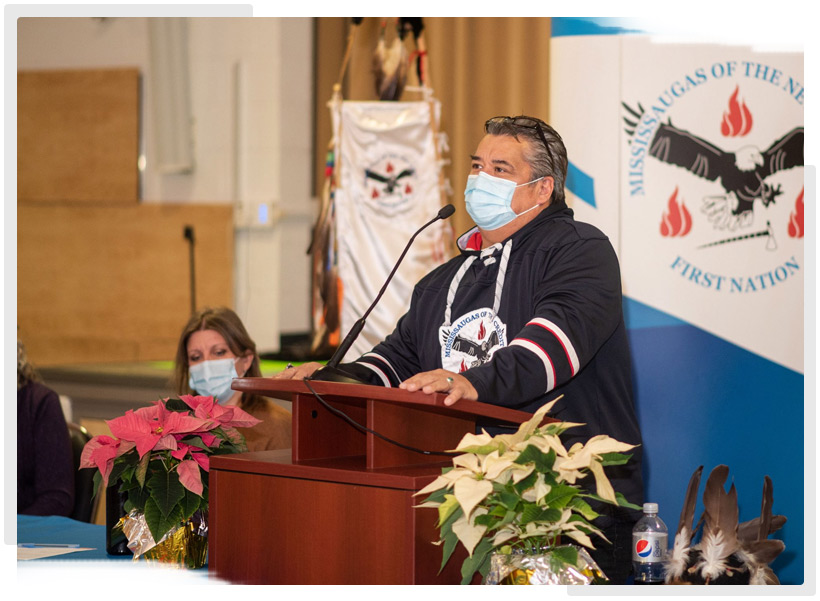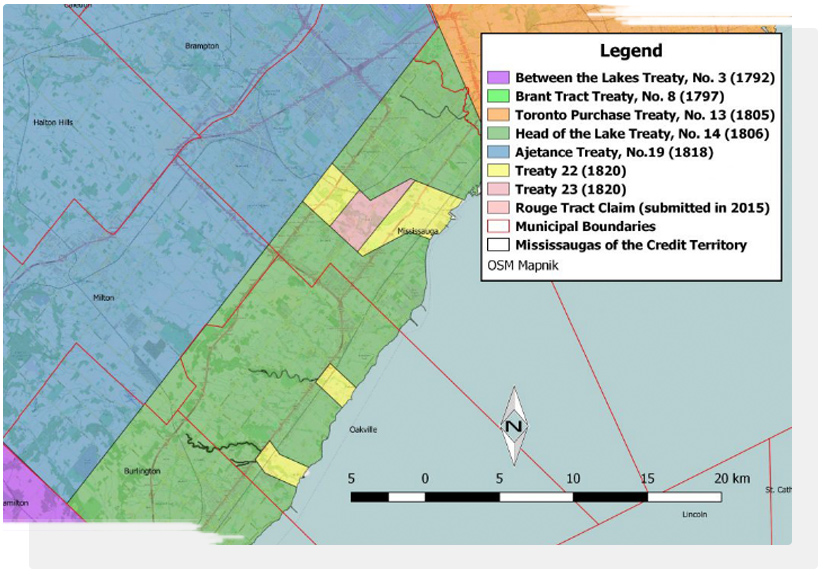 Traditional territory
MCFN were the original owners of the territory in the following description: commencing at Long Point on Lake Erie thence eastward along the shore of the Lake to the Niagara River. Then down the River to Lake Ontario, then northward along the shore of the Lake to the River Rouge east of Toronto, then up that river to the dividing ridges to the head waters of the River Thames, then southward to Long Point, the place of the beginning.
View Treaty Map
Name: The word "Missisakis" in Anishinaabemowin language translates to "many river mouths." By the mid-nineteenth century, the Mississaugas believed they had obtained their name from the mouths of the Trent, Moira, Shannon, Napanee, Kingston, and Gananoque rivers. The term New Credit was in reference to the relocation of the Credit River Mississaugas in 1847." The word "new" was dropped from the reference to the community by official council motion in December 2018.
Logo: Eagle: The Eagle is used because it is the predominant totem of MCFN. The Eagle is viewed as the messenger — the Mississaugas were once considered to be great messengers, some days, traveling up to 80 miles on foot.
Three Fires: The three fires are symbolic of the Mississaugas' traditional and political alliance with the Ojibwe, Odawa, and Pottawatomi Nations. A council, the Three Fires Council, was established and still exists today.
The Circle of Life: Within this category there are two aspects. One, First Nations teach that every living thing is related and interconnected—we are all a part of the Circle of Life. Secondly, the blue writing symbolizes the interconnectedness to the traditional territory of the MCFN, the Credit River and Lake Ontario.
The Peace Pipe: The Peace Pipe is the Mississauga People's equivalent of a Parliamentary Mace. The pipe was given to the Mississauga Peter Jones by Queen Victoria's cousin Augustus d'este. It is used in special opening ceremonies to thank the great spirit, mother earth, and the sun.
Vision statement: The Mississaugas of the Credit First Nation look to our Anishinaabe roots to guide our vision for the future as a strong, caring, connected community who respects the earth's gifts and protects the environment for future generations. Our identity includes our history, language, culture, beliefs and traditions which we strive to incorporate into the programs and services offered to our community.

Newsletter
Sign up for our monthly newsletter to get the latest news and volunteer opportunities.