Items in Support of the Project
Debwewin Oakville is a partnership between the Mississaugas of the Credit First Nation and the Oakville Community Foundation to further a shared understanding of Oakville's Indigenous past and support local Truth & Reconciliation.
In support of the project, we have created a couple of items available to purchase.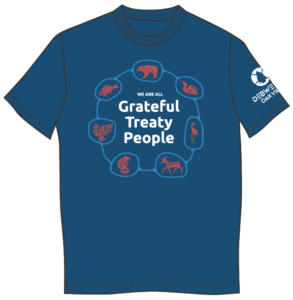 The Design created by Indigenous design company, The Jensen Group, includes the 7 Grandfather Teachings of the Mississaugas of the Credit, recognizing the treaty with creation. Proceeds from the Debwewin Oakville t-shirts will contribute to the work of the Mississaugas and support the Debwewin Oakville project as it develops.
Each t-shirt features the 7 Grandfather Teachings with "We Are All Grateful Treaty People" 3-colour print on the front chest, with the Debwewin logo on the left sleeve in white on 100% cotton unisex tee.
T-shirts are sold through our Indigenous merchandise partner Nish Tees.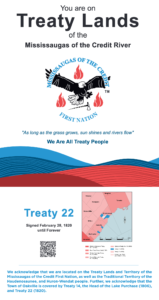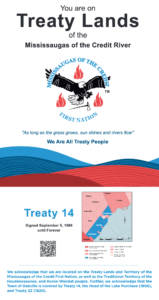 The Debwewin Oakville project began with a plan to place signage throughout Oakville recognizing the local treaty territories. These signs, beautifully designed by The Jensen Group, are now available for purchase for your home or office.
Be sure to find your address on the Map of Treaties, and then click the button below to purchase your plaque from our partner the Oakville Community Foundation.